Table of Contents

March 2019 Update
Assignments – Brightspace Assignment Grader
Assignments – Annotate learner submissions
Note: At this time, D2L does not recommend using the built-in annotation tool for use with assistive technology.
Instructors can now use the built-in annotation toolbar in Assignments to provide contextual feedback with highlighting, free hand drawing, shapes, and associated commenting. This allows instructors to complete all their evaluation and feedback work directly in Assignments, without the need to use any external tools or applications. Annotations remain editable until the feedback is published by the instructor. If instructors want to add additional feedback after publishing, they can update the annotations and re-publish them.
Assignments - Improvements in Assignments
Learners can now submit .cs file types as assignment submissions.
February 2019 Update
Class Progress and User Progress - No Longer Display System Login Information
The Class Progress and User Progress tools also displayed System Login information to all users who had access to this tool. While this may be helpful to determine if someone is logged into the system, we feel that this is not information that should be exposed in this way. In this update we are turning off the ability to see this information. If there is need for this information with regards to academic appeals, we will work with the department or faculty on those requests to provide the appropriate information.
January 2019 Update
Assignments - Improvements to Assignments List view
When accessing Assignments, the list view now displays updated information. Previously instructors would see information on the assignment name, Total Submissions, Unread Submissions, Flagged Submissions, and Due Date. Now instructors see information on the assignment name, the number of learners who have completed the assignment, the number of learners who have been evaluated, the number of learners who have had feedback published, and the Due Date. This allows instructors to quickly determine what assignments they need to evaluate, how far along they are with their evaluations, and if they have published the evaluations.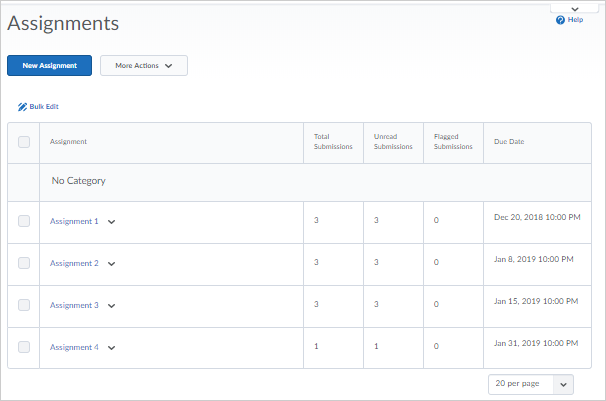 Original Assignment View for Instructors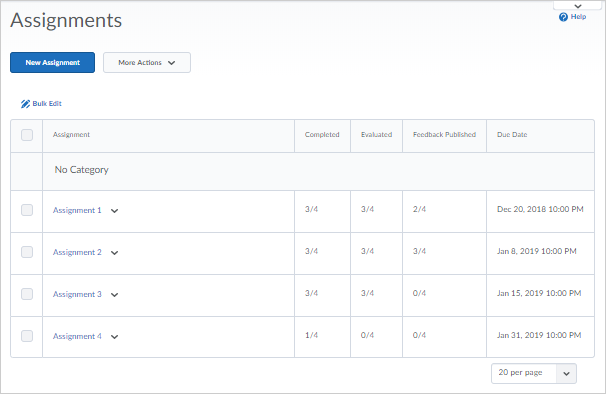 New Assignment View for Instructors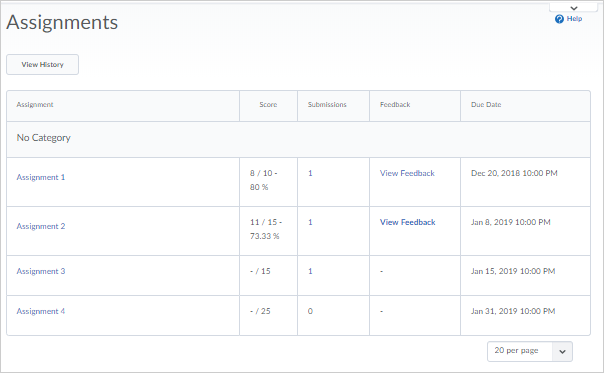 Original Assignment View For Students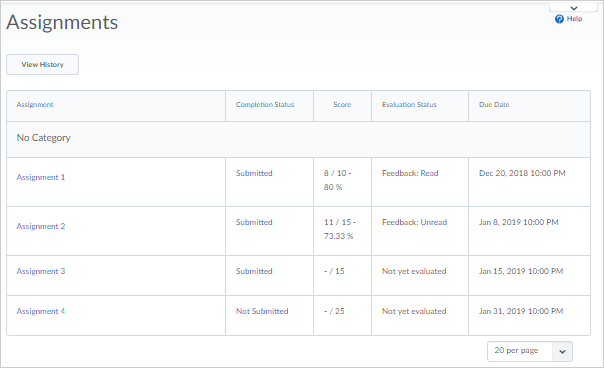 New Assignment View for Students
Learners also have an updated view of the assignments list, and are now able to see the assignment name, the Completion Status (Not Submitted, Submitted, Completed), their Score, The Evaluation Status (Not yet evaluated, Feedback: unread, Feedback: read), and the Due Date. This change to the list view allows learners to easily locate unfinished assignments, as well as access their scores and view instructor feedback on their work.
This is currently set to ON (Opt-In) which means that any user can customize this view, and if they don't like it, can revert to the previous view.
HTML Editor - Descriptive error message for quicklinks to unavailable activities
A specific error message now appears to users who click a quicklink to an activity that is outside the availability dates (not yet available or no longer available). The error message appears for the following unavailable activity types:
Announcements items

Calendar events

Chat sessions (if the user is not part of a group chat)

External learning tools links

Templates (that are not available in the current org unit)

Groups (with expired self enrollment option)
This feature builds on a previous feature of 10.8.6 that added a specific error message for some course activities. With this feature, the specific error message, "Unavailable Quicklink. The <activity type> is not available" appears for many additional course activities.
Intelligent Agents - Export agent run history to CSV
Intelligent Agent run history, previously only visible in Brightspace Learning Environment, can now be exported to a CSV file. The export can include all agents or a specific agent. It can also include runs made during a specified date range. This feature allows instructors to better track learners that are triggering Intelligent Agents.
Rubrics - Improved rubric creation experience
To improve on the new rubric creation experience, rubric creation has been changed to a single-page workflow. Clicking New in the Rubrics tool immediately brings the user to the rubric authoring page. As well, the two previous Rubric Tool options Properties and Levels and Criteria are now condensed into a single Edit option.
Again, this feature is configured to ON (Opt-In) which allows the user to revert to the old view if that is preferred.
---
For questions or concerns, Avenue support is available from Monday to Friday, 8:30 AM to 4:30 PM at (905) 525-9140 ext. 23757 or by completing the intake form located at http://avenue.mcmaster.ca/support/